FPE asks Sheree Gibson, PE, CPE (President of Ergonomics Applications) why she became an ergonomist?
In many ways, I became an ergonomist by "accident". I graduated with a B.S. in mechanical engineering from West Virginia University and was working for a small forensic consulting firm doing accident reconstructions. In many cases, I noted that the injury had two causes: a design or mechanical failure AND a human error. When I was working on one such case, the attorney hired two experts: me to perform the mechanical analysis and a WVU human factors professor named Ralph Plummer to look at the human side of the accident. Since we had a two-hour drive each way for the site visit, we drove together and started talking. He explained what human factors professionals did and I was very intrigued.
I was already working on a master's in environmental engineering but Dr. Plummer suggested I take a beginning human factors course as an elective. I did. The next thing I knew I was changing my area of emphasis to applied ergonomics (which is part of the Industrial and Management Systems Engineering at WVU). Before I even finished my degree, Michelin recruited me to start up their ergonomics efforts in the U.S. I spent the next three years training engineers, analyzing jobs, and helping improve jobs in their five manufacturing facilities, as well as their research facility and headquarters. (And, yes, I did finish the degree remotely at night with the help of Auburn University's Distance Learning program.)
Twenty-three years ago, I set out on my own as an industrial ergonomics consultant. My clients vary widely from poultry processors to aircraft manufacturers to aluminum foundries and everything in between. I love the variety. It keeps me interested and gives me a 'fresh set of eyes' when I see a new process or method. I work with companies which are very advanced and others who are learning what the word means. After all these years I still enjoy the work. I have gotten hugs from employees who tell me what a difference ergonomic changes have made in the way they feel at the end of the day and that they now hope to work many more years at their jobs because they are so much easier. I also had a plant manager admit that the ergonomic changes he fought tooth and nail actually made the plant profitable. I think it killed him to say it.
I even managed to impress my kids. Not with my projects on the Saturn V rocket or the Apache helicopter (and definitely not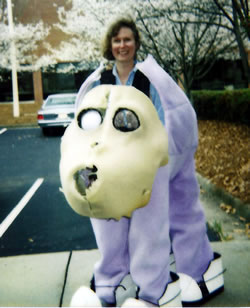 with the poultry work!). Several years ago, Paramount Show Services called and asked for help redesigning the costumes for the characters that walk around their amusement parks. It turns out walking (and sometimes dancing) in a Barney Rubble or Dino costume was not "a walk in the park". The costumes were cumbersome since they generally had large heads with most of the weight balanced on the head. Vision was poor and they quickly became a steam bath in hot weather. Although the folks who license the characters wouldn't allow any changes to "the look" of the costume, we did a major redesign of the interior suspension and changed a lot of the materials to improve visibility and breathability. We also implemented spotters and a strict work/rest regimen in hot weather. It is important that Dino not fall over and have to remove his head in front of small children again. (When it happened, they thought he had eaten someone.)
In my spare time, I enjoy quilting, whitewater rafting, snorkeling, golf and traveling. Sometimes, I get to do ergo in fun places. I am going to Singapore in October to teach the use of ergonomic analysis tools at the American Industrial Hygiene Association's Asia + Pacific Conference. You never know where the field will take you.
I look forward to working with the Foundation for Professional Ergonomics, helping the field become more recognized. GOOD ergonomics is all but invisible. BAD ergonomics is not. That is why I have spent so much of my career teaching the fundamentals to mechanical engineers and supervisors. It expands our sphere of influence beyond our profession.
Sheree Gibson, PE, CPE demonstrating prototype walking costume she designed for Paramount Show Services.