Disclaimer
The Foundation for Professional Ergonomics (FPE) does not endorse these products. And, the FPE does not assume that a systematic ergonomics approach or ergonomic principles were followed. From time to time, however, the Foundation does come across various products and presentations that appear to be well designed for the users of the product/presentation. FPE believes it is important to recognize those products/presentations.

The following products meet these criteria.
---
Grab Opener
"The GrOpener removes caps as you grab the bottle with one hand, it keeps caps flat, it leverages pull tabs on cans, and its magnet allows it to stow on your beer fridge." (http://gropener.com)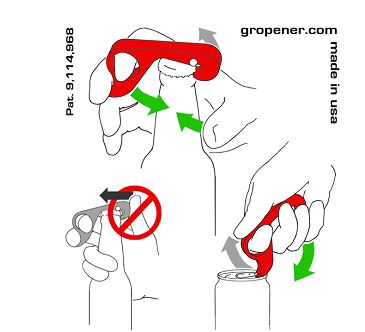 This example of good ergonomic design allows everyone, including special needs individuals, to open cans and bottles using only one hand.  The simple but effective design promotes a grasping motion, which reduces ulnar deviation for a more neutral wrist posture with less mechanical stress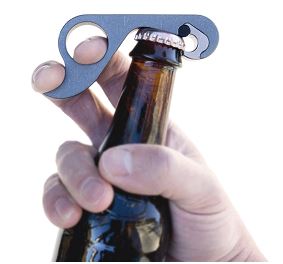 Robotic Mobilization Device
The Tek RMD, developed by Matia Robotics, is a motorized standing movement device that allows those using a manual wheelchair to complete everyday activities from a standing position.  Users can board and control the Tek RMD unassisted, providing greater independence.  Once boarded, the suspension system has a gas spring mechanism that balances the weight of the user, minimizing the force needed to enter a standing position.  While standing, a joystick control allows the user to choose their path.  Specs and a video demonstration can be found at https://www.shopnumotion.com/tek-tech. 



The Rehabilitation Engineering and Assistive Technology Society of North America (RESNA) and ergonomic research have found that periodic standing can improve bone density, bladder and bowel function, digestion, heart rate and peripheral circulation, muscle loading and fatigue in the lower back, and respiratory function.  Being able to stand can also improve self-esteem and psychological well-being.  This example of good ergonomic design provides an important mobility option for those using wheelchairs.
Toddler Mobility Device
The CHAMP (Children's Ambulatory Mobility Platform) was developed by students in the Mechanical Engineering Department at Texas Tech University, under the guidance of Dr. Jeff Hanson.  The students applied their engineering knowledge to design and build a battery powered, lightweight vehicle that enabled a wheelchair-bound toddler to get around on her own.  Click here for a video of CHAMP.   CHAMP reflects good ergonomic design by being easy to operate, simple to access, and safe to use.  Anthropometric measurements of the toddler population helped design the reach envelope for controls, seat height, and seating restraints.




Obviously, the CHAMP enables physically handicapped children to move around like their peers.  However, the impact of this interaction with their environment goes well beyond their physical and social development.  Research shows that when children are not able to move around in their environment, their cognitive development is negatively affected, and they can fall behind their peers in these areas as well.


Green Ergonomics in Box Design
This simple box design does not use any adhesives.  It provides a strong container for even objects, such as a large storage battery.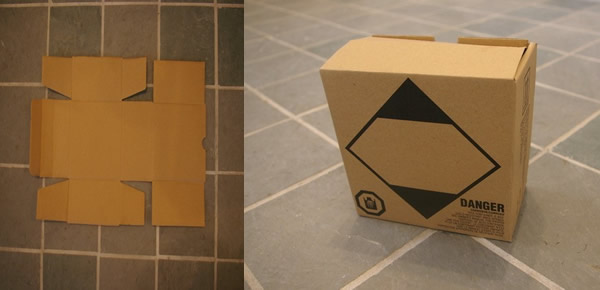 Milwaukee Drill and Case
This design case involves a heavy-duty electric drill and case manufactured by Milwaukee Tools Inc.  The case has the carrying handle not located at the center of the geometry but over the center of mass.  The result is a much easier load to carry and manipulate.  This is a very simple, but effective, design change from the traditional that probably cost very little to develop and include in the final design.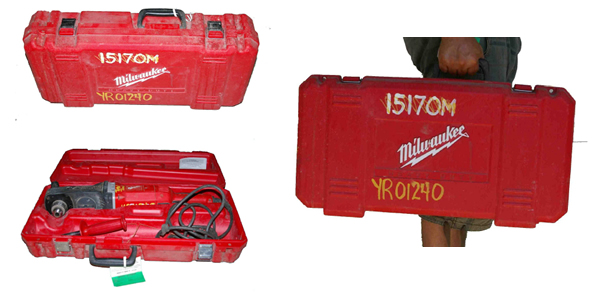 Case Dimensions:
Height 14"
Length 28"
Width 4"
Handle off center 4"
Weight 36 kg
---
LIQUID CONTAINER WITH INTEGRAL MEASURING
This design case involves a container for a liquid that needs to be measured out in small quantities.  The container has two chambers – one to hold the bulk of the liquid and the other to hold the amount to be dispensed.  The dispensing chamber is marked for a number of amounts.  The process is simple.  The dispensing chamber is filled to the level appropriate for desired amount, the cap is removed, the liquid poured from the dispensing chamber with none coming from the bulk chamber.  If the desired amount is more than the dispensing chamber will hold, the process is repeated until the desired amount is achieved.  This design is simple, economical, efficient, and effective.