Vision
A world in which ergonomics knowledge and resources are accessible for all developing populations to live and work safely, efficiently and sustainably.
Status
Ergonomists are naturally concerned for others' well-being and look to improve quality of life. Ergonomists Without Borders, a project of the Foundation for Professional Ergonomics, strives to do so globally in agriculturally and industrially developing communities.
Dr. Andy Imada of California, president of the Human Factors and Ergonomics Society, called Ergonomists Without Borders, "a chance to give back to the world community," noting that the impact from even modest ergonomic support would be highest in industrially developing communities.
Organizations in agriculturally and industrially developing communities can contact Ergonomists Without Borders to locate individuals qualified to provide expertise services as well as to give workshops in person or by virtual means. The organization also offers professional ergonomics assistance. These services are provided at no cost to the recipients other than coverage of expenses. Minnesota-based ergonomics consultant Dr. Nancy Larson, a member of Ergonomists Without Borders, said the group is leveraging technology to keep costs down. The committee also intends to fundraise to reduce costs to recipients.
The group began in 2007 and attracted much interest on ErgoWeb. It is revived with a new organizational committee, which includes members in Mexico and Colombia. The group's mission is "to improve quality of life by providing ergonomics expertise and resources to agriculturally and industrially developing communities, globally." The committee is expanding its network to connect with colleagues and learn what training, resources or collaboration is of interest to those in the target communities. Larson underlined the importance of this networking and listening stage.
Dr. Carlos Espejo Guasco, a founder of the Society of Ergonomists of Mexico (known as SEMAC, for its Spanish acronym), as well as the Central American and Caribbean Occupational Health Federation (FECACSO) and a member of Ergonomists Without Borders, has long been passionate about sharing knowledge across borders. He has traveled extensively to give workshops and spearhead the creation of professional societies. Dr. Espejo Guasco has encountered enthusiastic response from ergonomists and many others who want to apply ergonomics to their professions. He said what is needed most is simply the will to share time and expertise.
Dr. Robert Smillie of California, president of the Foundation for Professional Ergonomics, believes that willingness is there. "A lot of professionals are certainly willing to lend their expertise," he said, "They just need to be made aware there is a relationship like this and try to pick out a project."
Ergonomists Without Borders recently sent ergonomics textbooks to the Ergonomics Society of Nigeria. The group provides free access to papers and other written materials on its website, ergonomistswithoutborders.org. Dr. Yordán Rodríguez Ruíz, professor at the National College of Public Health of the University of Antioquia, in Medellín, Colombia, is a member of Ergonomists Without Borders. He said among other things, he envisions the group creating a space to communicate in Spanish about ergonomics in Latin America, and to present information about the region for a global audience.
Dr. Rodríguez Ruíz and Dr. Espejo Guasco both noted businesses and governments in Latin America are increasingly concerned about ergonomics. Dr. Rodríguez Ruíz said he feels this presents an important opportunity to demonstrate the value of ergonomics to those who are encountering the field for the first time, and to expand their interest to more systematic approaches, as well as non-physical ergonomics.
Ergonomists Without Borders member Dr. Nancy Theberge, a sociologist who is Professor Emerita in the Department of Kinesiology, University of Waterloo in Ontario, agreed careful relations and cultural understanding would be part of that process, a lesson she has learned even in North American domestic practice. "Successful implementation of ergonomics involves crucial consideration of things that don't have much to do with technical aspects of ergonomics," she said, such as social and cultural climates in organizations and even broader political contexts.
With increased collaboration among colleagues around the world, Ergonomists Without Borders supports the profession in agriculturally and industrially developing communities, where workers and consumers, like those anywhere in the world, are grateful for safer, more comfortable conditions.
Ergonomists Without Borders Members led an Ergonomics Training Course in the Dominican Republic in December 1-3, 2015. Committee members Dr. Carlos Espejo Guasco and Dr. Tom Albin presented an applied ergonomics course in Santo Domingo, Dominican Republic. The worshop was sponsored by the Administradora de Riesgos Laborales Salud Segura (Administration for Occupational Hazards and Health Insurance), an agency of the Government of the Dominican Republic, and by Sociedad Dominicana de Ergonomía, La Sociedad de Ergonomistas de Mexico and Caribbean, and the International Ergonomics Association.




Ergonomics training course in Santo Domingo, Dominican Republic attendees.
When Hurricane María released its full fury on the island of Puerto Rico on September 20, 2017, the power grid was devastated.  Months later, only about 34% of the population had reliable power. Sheree Gibson, the Vice President of the Foundation for Professional Ergonomics (FPE) contacted her friend and colleague, Professor Lida Orta Anés, an ergonomist who teaches in the School of Public Health at the University of Puerto Rico, to determine if there was anything that would help the University.

Orta Anés said that the school had previously standardized on electronic textbooks rather than hard-copies for their students.   With power only partially available and unreliable even then, the students were using their smart phones to access the texts.   Unfortunately, the heavy smart phone use ran down the phones' batteries and with the current power situation and the lack of capability to charge the phones, the students could not read or complete assignments in a timely manner. Ms Gibson collaborated with the FPE's ErgWB liaison, Dr. Tom Albin.  Together they arranged for ErgWB to purchase solar phone chargers for the students to use.  Twenty-two solar chargers were sent.  They were used by students when classes resumed on January 8th.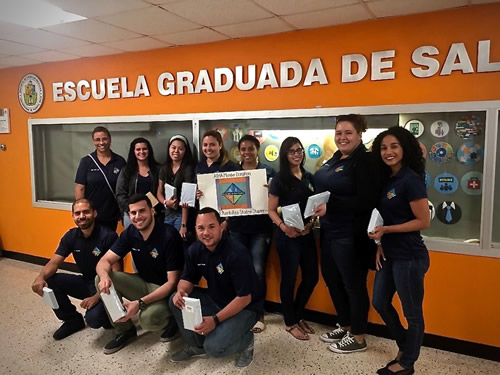 Ergonomic students at the University of Puerto Rico are happy to receive solar chargers from FPE's ErgWB.
If you are intersted in learning more about either of these projects, or are just interested in learning more about Ergonomists Without Borders, contact us at http://www.ergonomistswithoutborders.org to seek resources and assistance, volunteer expertise or materials, or make a financial donation to support future projects.