The Foundation for Professional Ergonomics (FPE) is pleased to announce the recipients of the FPE Impact Grants for 2023-2024. FPE Impact Grants are intended as seed funding for small (pilot) projects that could potentially lead to more extensive
funding opportunities from other sources in the future. The aim is to support professional ergonomics projects around the world that demonstrate the impact that ergonomics can have on productivity, safety, and well-being. A total of twenty proposals
were received from Egypt, Kenya, India, Indonesia, Iran, Malaysia, Thailand, UK, US, and Vietnam. The selection committee decided to provide funding to two excellent proposals deemed to have the highest potential impact on the practice of ergonomics
worldwide. 
The first FPE Impact Grant went to a cross-country project entitled: "Assessing the Ergonomic Risk Assessment for Musculoskeletal Disorders among Manufacturing Workers in Malaysia and Thailand," proposed by a team led by Professor Shamsul Bahri Mohd Tamrin and Professor Dr. Ng Yee Guan (both from Universiti Putra Malaysia), Mr. Kittithat Sudchoo, Professor Sukrit Sangkhano, and Professor Phisit Pouyfung (all three from Walailak University, Thailand). Musculoskeletal disorders (MSDs) are a significant global health and economic issue, particularly in the manufacturing sector of Malaysia and Thailand. This project will assess MSD risks comprehensively and evaluate the usability and utility of a systematic risk assessment screening tool, contributing to the development of evidence-based strategies and policies for preventing MSDs in the manufacturing industry. FPE believes that this work will raise awareness to government agencies and manufacturers about the impact that ergonomics has on safety and productivity. 
The second FPE Impact Grant was awarded to Professor Mallampalli K. Chaitanya of the Vellore Institute of Technology, Vellore, Tamil Nadu, India for the proposal entitled "Design of Ergonomic Hand Tool for Minimizing Work-related Upper Extremity Symptoms among Cashew Workers in India." In industrially developing countries, small-scale industries play a crucial role in the economic development of the country; and, create a huge employment opportunity for people, particularly in rural regions. One such important small-scale industry in India is the cashew industry. Of the various work activities required, cashew nut shelling is a significant activity involving two workers. This project focuses on cashew kernel separating activity with the objectives to assess the prevalence of work-related upper extremity symptoms among CKS workers and to design and develop an ergonomic hand tool for hand comfort and safety. FPE believes that this project will not only impact workers in the cashew industry but will also serve as an example of how ergonomics can be applied in other areas.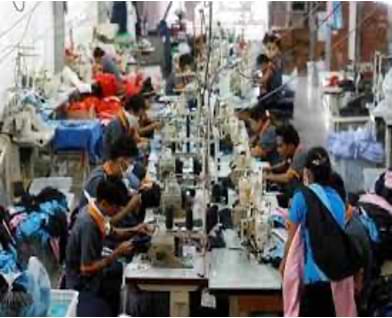 Manufacturing in Thailand.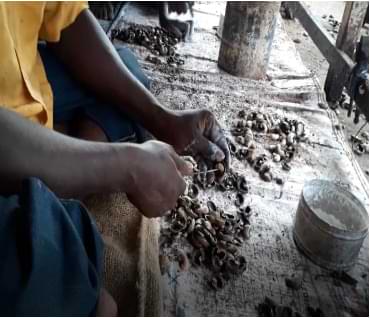 Cashew kernel separating in India.
Both projects have a 12-month period of performance and will provide interim and final reports. Findings will be published in professional journals with reference to the Foundation's financial support. 
Two other impact grant projects were completed in 2021-2022. One addressed a certification system and core competencies for professional ergonomists in Thailand. And the other was an investigation of the ergonomic risks common to workers in the batik industry in Malaysia. 
With no professional standards for those providing human factors and ergonomics (HFE) assistance to Thai industries, Dr. Manida Neubert and her team of investigators developed a certification system and core competencies for Thailand's
professional ergonomists. The investigators compiled details about HFE education in Thailand as well as needs for HFE services by Thai industries. This information was used to identify educational competencies and deficiencies and to develop a pilot HFE certification program that is consistent with other certification bodies endorsed by the IEA. The certification program establishes a guideline for knowledge and skill requirements for professional ergonomists in Thailand which will, in turn, improve
productivity and safety in Thai manufacturing and service industries. A complete report is published in Theoretical Issues in Ergonomics Science https://doi.org/10.1080/1463922X.2023.2190788 
Investigating the ergonomic risks common to workers in the batik industry, Dr. Dian Darius of the National Defense University of Malaysia and Dr. Darliana Mohammad of the Universiti Malaysia Kelantan made detailed observations of batik artisans using recognized analysis techniques to assess ergonomic risks under various postures and working conditions. They also conducted a study that measured muscle loading during batik painting with typical postures. A wide variety of design options for a stool were evaluated with user input, and a final design was selected for use by batik workers. The stool will help reduce ergonomic stresses, enabling the artisans to remain active and safe in an industry that is important to Malaysian culture. Other interventions, including improved lighting and adjustable work surfaces, were recommended as well. The full report will be published in Theoretical Issues in Ergonomics Science.
For more information about the proposal submission process for future Impact Grant Awards, please contact Drs. Waldemar Karwowski (This email address is being protected from spambots. You need JavaScript enabled to view it.) and Harvey Cohen (This email address is being protected from spambots. You need JavaScript enabled to view it.). 
Your donations support Impact Grants. Each of these high visibility projects raises awareness of professional practice in ergonomics in developing areas and has a direct impact on productivity, safety, and well-being of workers in many industries. Please make a donation to FPE to enable us to continue to support significant projects like these.