Congratulations to Guoyang Zhou, a PhD student at the School of Industrial Engineering/School of Nursing/Envision Center, Purdue University for winning the 2023 Dieter W. Jahns Student Practitioner Award. Guoyang's major professor is Dr. Denny
Yu. The award will be presented to Guoyang during the 2023 Human Factors and Ergonomics Society meeting in Washington, DC. A second $1,000 check was sent to Professor Yu. Guoyang's project, "Bringing Patient Mannequins to Life: 3D Projection
Enhances Nursing Simulation" used a unique augmented reality (AR) 3D projection approach to improve simulation training outcomes for nurses.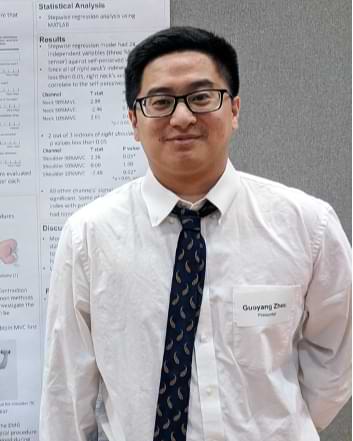 Guoyang Zhou – winner of the 2023 Dieter W. Jahns Student Practitioner Award.
Nursing educators worldwide use simulation to train healthcare students, providing practical experience without risking actual patients. With registered nurses representing a significant portion of the healthcare workforce, improving simulation
education for both educators and students is critical. Nursing simulations are used in patient care scenarios to improve clinical judgment, critical thinking, self-confidence, and clinical skills. Current high-fidelity simulation solutions have limitations, especially the static facial expressions on patient mannequins. Guoyang proposed an AR system using 3D projection technology to add dynamic animated facial expressions to patient mannequins. By capturing and projecting facial expressions onto the mannequin, the system aims to enhance the realism of the nursing simulation. Overall, the research objective is to design, refine, and test the usability of a novel AR 3D projection approach. This innovative technology can impact both nursing students and nursing educators by improving simulation training outcomes and addressing the limitations of current simulation-based training approaches.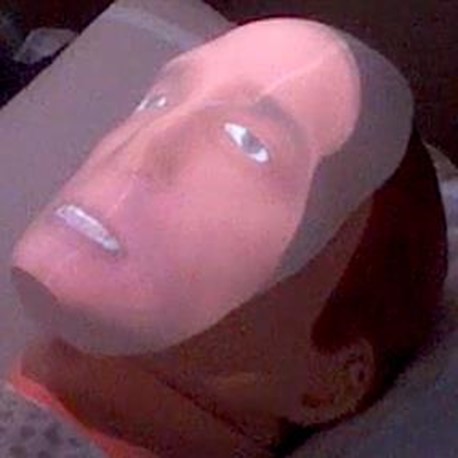 Example Facial Expressions Captured and Projected by the System.
Using eye-tracking (gaze behavior) as a measure it was found that the mannequin with dynamic facial expressions influenced student nurses' visual attention and the students were found to be more fixated on the dynamic mannequin, implying that the dynamic facial expressions are critical sources of information. From the performance measures, the proposed system added some significant value by enhancing students' awareness of the patient's facial expressions and improving the capability of making a rapid and accurate decision.
Honorable Mention
This year's competition included the following submissions:
Ahmad Albawa'neh, Shruthi Venkatesha Murthy, Goutam Singla, Jiang Wu; Industrial and Systems Engineering Department, Oakland University, Michigan submitted Augmented Reality Order Picking Aid for Foreign Workers in Warehouses; Professor Hyungil Kim was the advisor. Click here for an abstract of Ahmad's project.
Alec Gonzales, Clemson University submitted Evaluation of Exoskeleton Support in Operating Room Environments: A Mixed-methods Approach to the Compatibility of Exoskeletons with Minimally Invasive Surgical Tasks; Professor Jackie Cha was his advisor.
Akram Sadat Jafari Roodbandi, Shiraz University, Iran submitted Investigation of Ergonomic Components of Cognitive Functions and Evaluation of the Effect of Transcranial Electrical Stimulation Technique on Cognitive Function Empowerment in Air Traffic Controller; Professor Alirezal Choobinch was her advisor.
Gurdeep Singh, Department of Design Indian Institute of Technology (IIT), Guwahati Guwahati, Assam, India submitted Design and Development of Safety-enriched Innovative Tools for Pouch/ Sachet Cutting in FMCG Re-work Activities (DETAILS); Professor Sougata Karmakar was his advisor. Click here for an abstract of Gurdeep's project.
C. Vigneshkumar, Assistant Professor, Amity School of Design, Amity University, Noida, India submitted Designing a Knowledge-Based System to Facilitate the Process of Fall Risk Assessment in Construction; Professor Urmi Ravindra Salve was the advisor. Click here for a write-up of C. Vigneshkumar's project.
Previous winners include: 
2022:  Siobhan Merriman, University of South Hampton, United Kingdom
2021:  Anita Ney and Lillian Lacey (coauthors), University of Cincinnati and Bhawana Rathore National Institute of Industrial Engineering Mumbai, India
2020:  Sara Wolf and Franzisca Maas, Institute Human-Computer-Media, Julius-Maximilians-Universität Würzburg, Germany
2019:  Husam Muslim, University of Tsukuba, Japan
2018:  Paul Schlosser, Institute Human-Computer-Media, Julius-Maximilians- Universität Würzburg, Germany
2017:  Carly Warren, Abeera Ali, David Gafni, Daipayan Guha, Mayan Murray, and Hendrik Ophardt, University of Toronto
2016:  Hyungil Kim, Virginia Polytechnic Institute and State University
2015:  Moritz Albert, Daniel Reinhardt, and Ann-Kathrin Kraft Institute Human-Computer-Media, Julius-Maximilians-Universität Würzburg,
2014:  Denny Yu, University of Michigan
2013:  Kapil Chalil Madathil, Clemson University
2012:  Mohd Nasrull Abdol Rahman, Universiti Teknologi Malaysia
2011:  Radin Umar, Ohio State University
2010:  Augusto Espinosa, Embry-Riddle Aeronautical University