Congratulations to Siobhan Merriman, a PhD student at the Faculty of Engineering and Physical Sciences, University of Southampton in the United Kingdom for winning the 2022 Dieter W. Jahns Student Practitioner Award.
Siobhan's major professor is Dr. Katherine L. Plant. Dr. Kirsten M. A. Revell is a secondary advisor. The award will be presented to Siobhan during the 2022 Human Factors and Ergonomics Society meeting in Atlanta, Georgia. A second $1,000 check was sent to Professor Plant. Siobhan's' project, "To Trust or not to Trust a Level 4 Automated Vehicle, That is the Question." It focused on improving drivers' mental models for activating autonomous driving aids and trust in automation.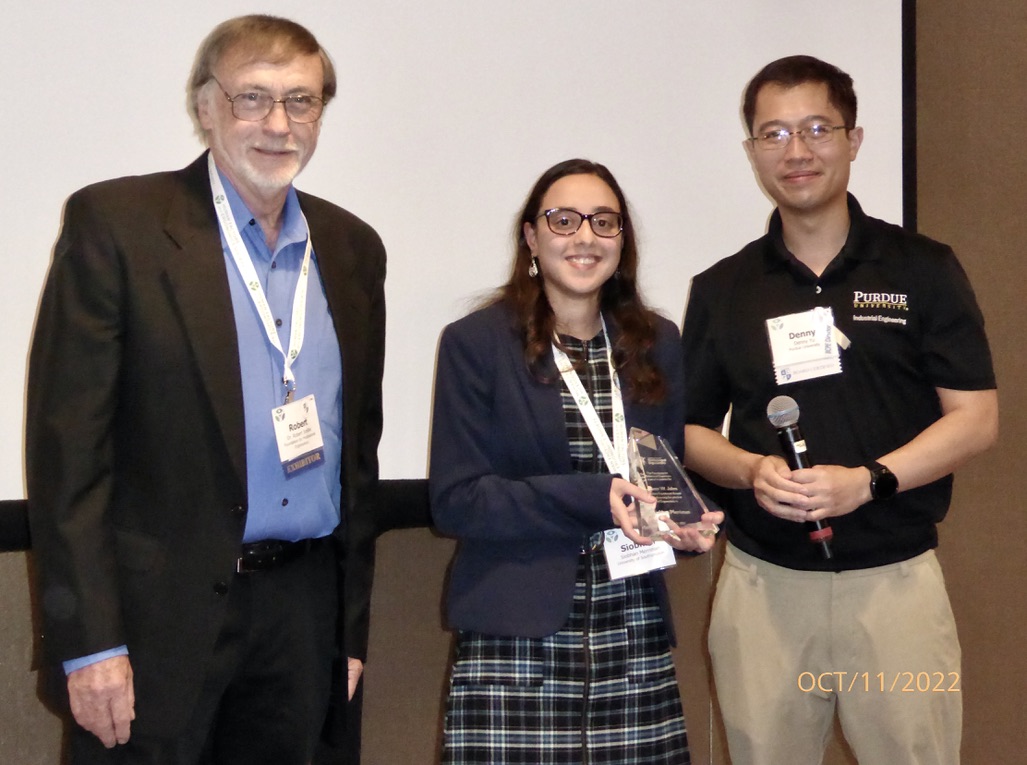 Siobhan Merriman accepting the 2022 Dieter W. Jahns Student Practitioner Award FPE President Bob Smillie and the 2014 winner of the award, Denny Yu.
Automated Vehicles (AVs) are expected to increase road safety (e.g. fewer and less serious vehicle collisions). One of the challenges, however, is ensuring drivers have an appropriate level of trust in the automation, as this will influence drivers' mental models and their driving behavior. If drivers have a poor mental model for the capabilities and limitations of the automation, they may over-trust and activate the automation in inappropriate road conditions leading to a collision. There are six levels of driving automation, from Level 0 (No Automation) where the driver performs all driving tasks to Level 5 (Full Automation) where the automation performs all driving tasks in all road and environmental conditions.
Siobhan's project addressed Level 4 automation (High Automation), the automation performs all driving tasks and monitors the road environment. The driver is no longer required to perform takeovers as the vehicle can transition to a minimal risk condition. Level 4 AVs overcome some challenges associated with Levels 1-3 AVs. Drivers are no longer required to perform the continuous monitoring or perform takeovers as the vehicle can transition to a minimal risk condition.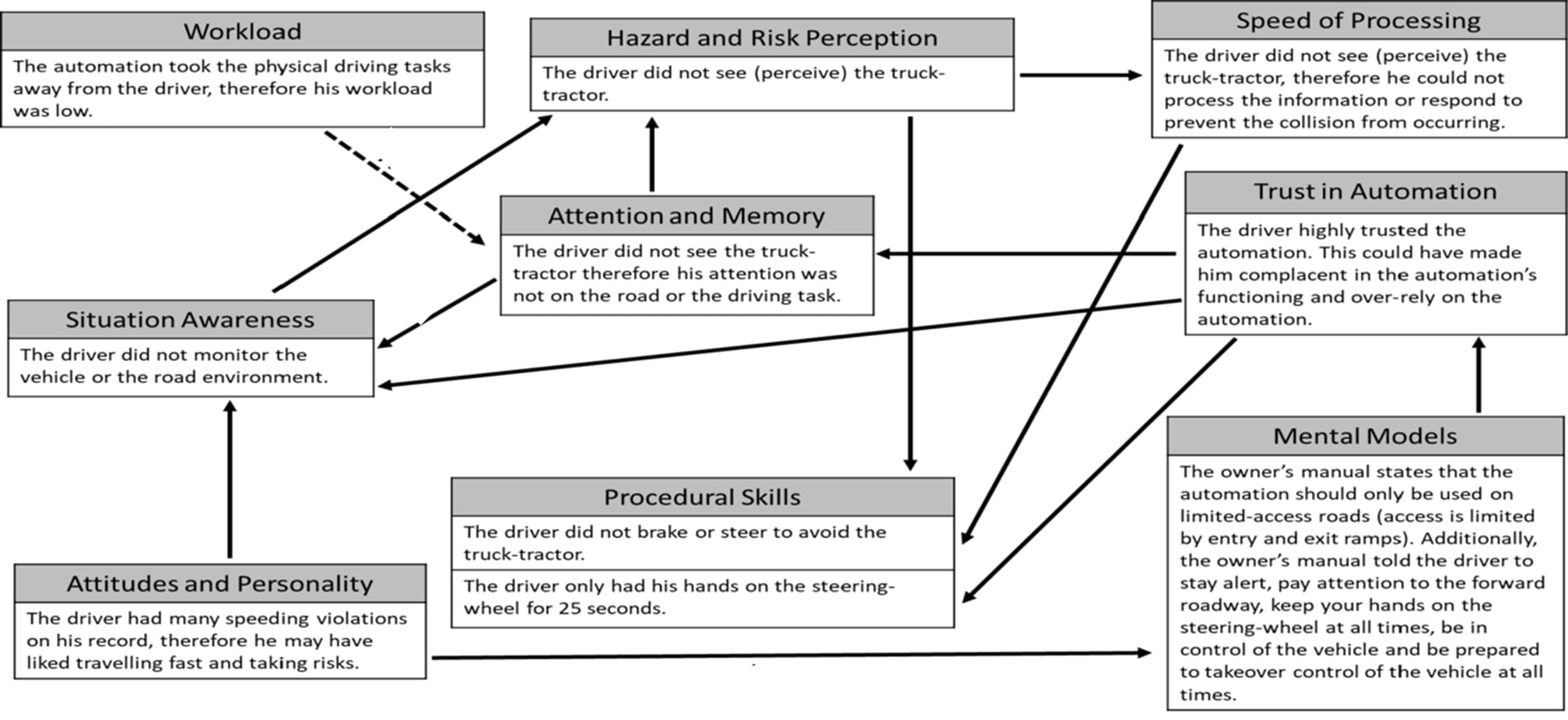 Thematic model example for an AV accident illustrating the role of automation trust and mental models.
Siobhan developed an online video-based training program to improve drivers' mental models for when Level 4 automation can be activated. Drivers' trust in automation was measured before and after training. The training reduced drivers' trust in Level 4 automation implying that drivers initially have misplaced trust in the capabilities of AVs, which, without training, may influence their unsafe interactions with them on the road. The training, therefore, can support the safe use of Level 4 AVs by helping drivers activate the automation in appropriate road conditions. This will create safer roads by reducing collisions linked to drivers having inappropriate mental models and trust in automation. This way the clear benefits of Level 4 AVs can be realised without the challenges.
Click here for an abstract of Siobhan's project.
Honorable Mention
This year's competition included the following submissions:
Mengyao Li, University of Wisconsin – Madison, submitted Measuring and Managing Trust in Conversational Agent; Professor John Lee was her advisor.
Akram Sadat Jafari Roodbandi, Shiraz University, Iran, submitted Investigation of Ergonomic Components of Cognitive Functions and Evaluation of the Effect of Transcranial Electrical Stimulation Technique on Cognitive Function Empowerment in Air Traffic Controller; Professor Alirezal Choobinch was his advisor.
Previous winners include: 
2021: Anita Ney and Lillian Lacey (coauthors), University of Cincinnati and Bhawana Rathore National Institute of Industrial Engineering Mumbai, India 
2020:  Sara Wolf and Franzisca Maas, Institute Human-Computer-Media, Julius-Maximilians-Universität Würzburg, Germany
2019:  Husam Muslim, University of Tsukuba, Japan 
2018:  Paul Schlosser, Institute Human-Computer-Media, Julius-Maximilians- Universität Würzburg, Germany
2017:  Carly Warren, Abeera Ali, David Gafni, Daipayan Guha, Mayan Murray, and Hendrik Ophardt, University of Toronto
2016:  Hyungil Kim, Virginia Polytechnic Institute and State University
2015:  Moritz Albert, Daniel Reinhardt, and Ann-Kathrin Kraft Institute Human-Computer-Media, Julius-Maximilians-Universität Würzburg
2014:  Denny Yu, University of Michigan
2013:  Kapil Chalil Madathil, Clemson University
2012:  Mohd Nasrull Abdol Rahman, Universiti Teknologi Malaysia
2011:  Radin Umar, Ohio State University
2010:  Augusto Espinosa, Embry-Riddle Aeronautical University