Winner of the 2019 Ergonomics Practitioner of the Year Award.
Robert S. Bridger, PhD, CErgHF is the recipient for this year's Ergonomics Practitioner Award.  The Foundation for Professional Ergonomics (FPE) initiated the annual award to recognize colleagues who have demonstrated outstanding contributions to the practice of ergonomics through their professional lifetime achievements and/or specific implementation projects. Robert is the current President of the Chartered Institute of Ergonomics and Human Factors in the United Kingdom.  He is an independent consultant and educationalist in human factors/ergonomics.  He recently authored the fourth edition of the textbook, Introduction to Human Factors and Ergonomics, and, A Guide to Active Work in the Modern Office: Homo Sedens in the 21st Century. The award was presented at the 2019 Human Factors and Ergonomics meeting in Seattle.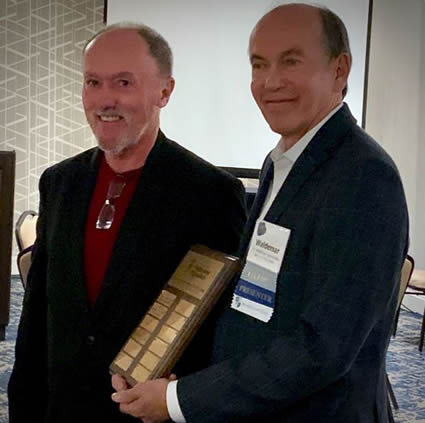 FPE Director, Waldemar Karwowski, presents t
he Ergonomics Practitioner of the Year award to Robert Bridger.